Google Developer Account Setup
Step 2. Select account Type for whom you are creating an account, and click on Get Started.
We highly recommend businesses to setup this up "As an organization or business"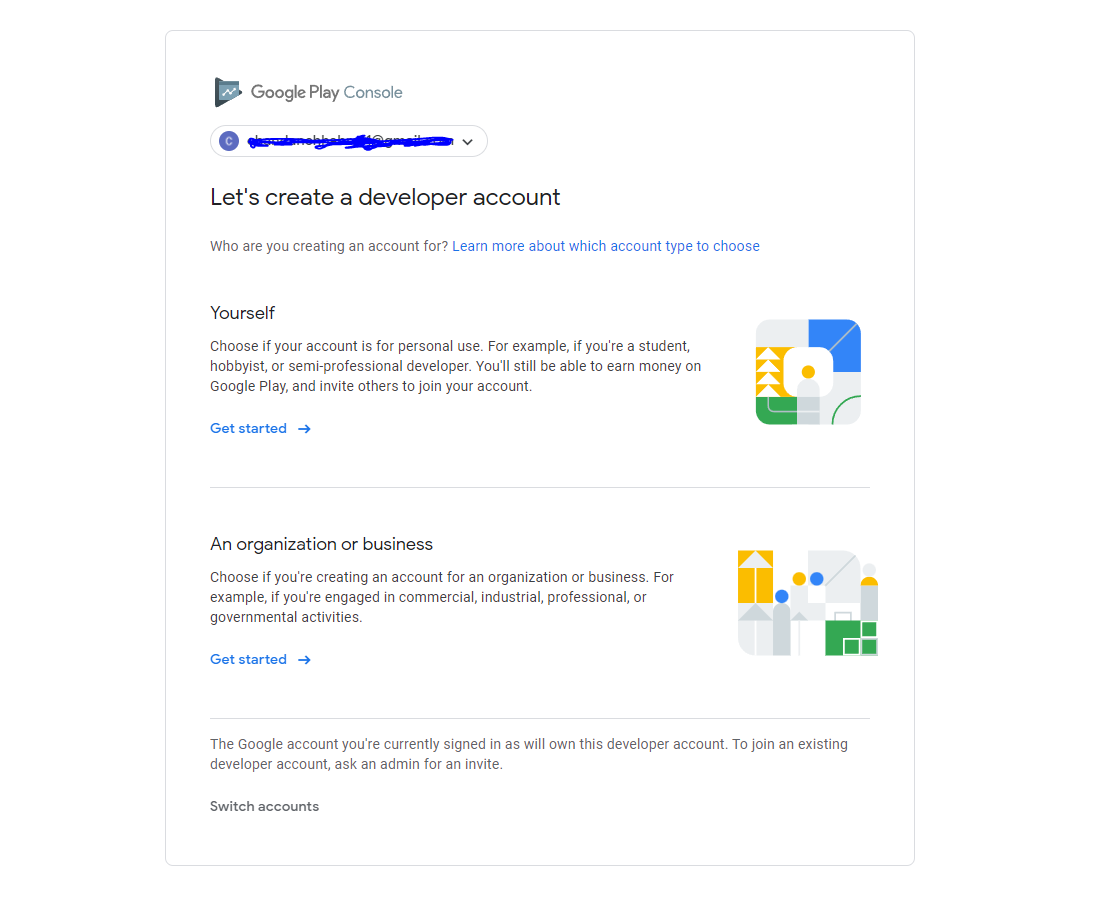 Step 3.
Fill the Organization and Contact Person details.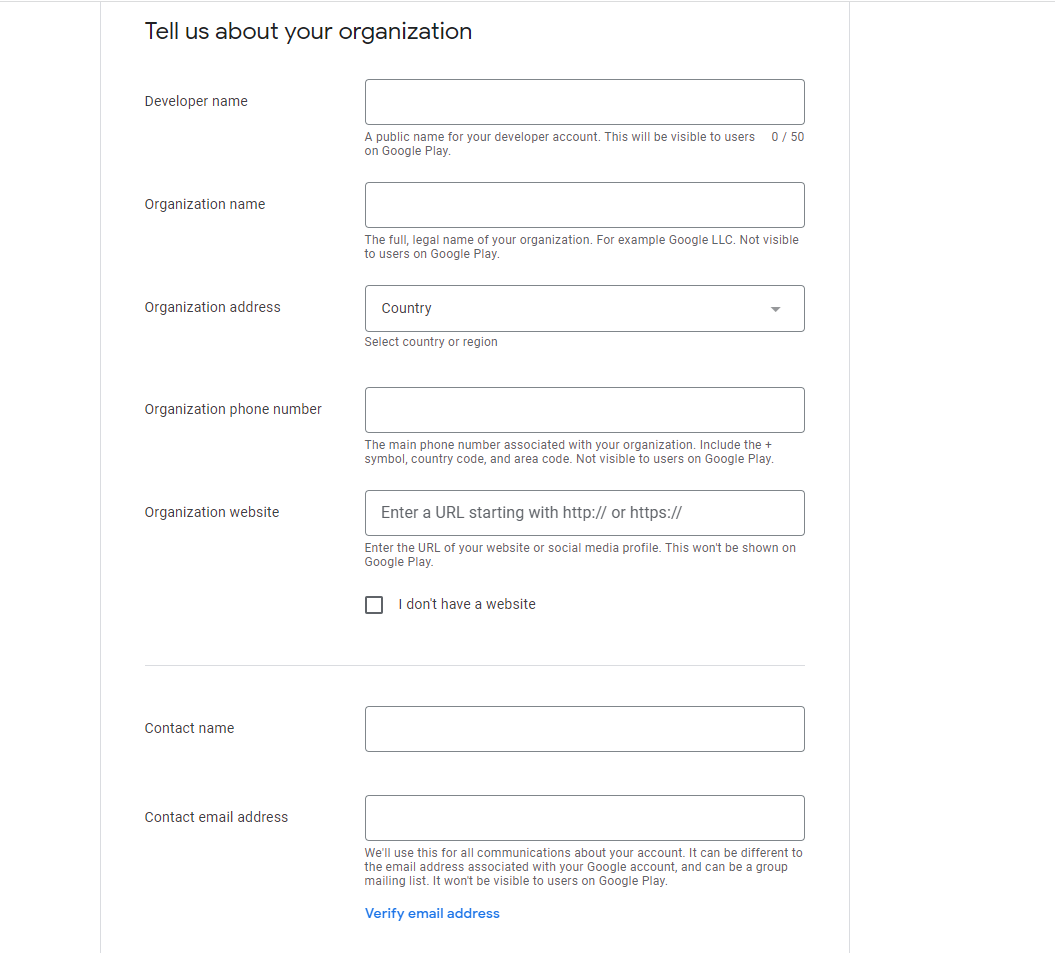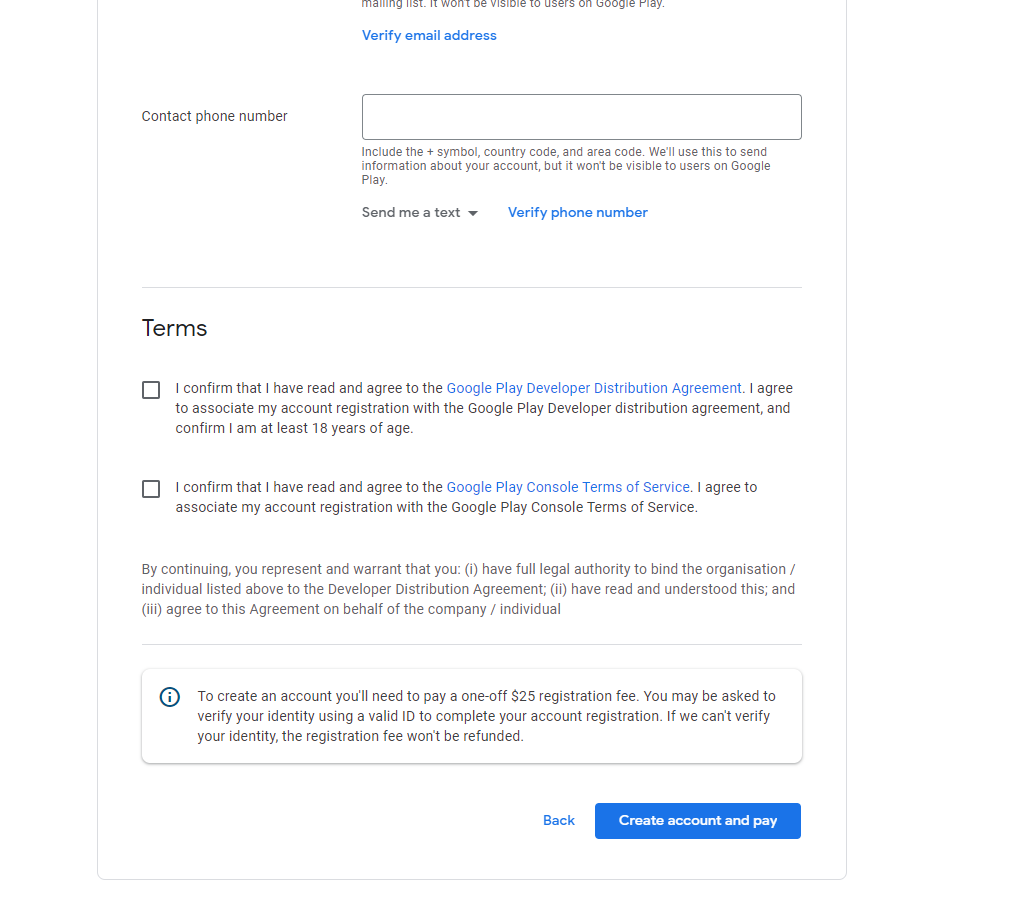 Organization Details:
Developer name: A public name for your developer account. This will be visible to the user below the App Name on the Google Play Store.




Organization name: The full, legal name of your organization. This will not visible to the users on Google Play.




Organization phone number: The main phone number associated with your organization, including country or area cod

. This will not visible to the users on Google Play.

Organization website: This won't be shown on Google Play.

Contact Person Details:

Contact name




Contact email address: This will be use for all communication about your account. It can be different to the email address associated with your Google Account and can be a group mailing list. It won't be visible to user on Google Play.




Contact phone number: Include country or area code. This will be use to send information about your account.

It won't be visible to user on Google Play.|


Step 4. Fill in the details, Accept Terms and click on Create account and pay by $25 to the google.



Step 5. Once the account is created, go to Users and Permissions on left- invite New User on the right, to give access to us for your developer account, so that we can upload the Application in Developer account on your behalf.

as administrator(expiry never) and send an invite.

Once all the steps are completed kindly fill out this form>>
Click Here
<<
so that we can receive the details and make sure to get your application deployed
.

Recently, we have noticed that, Google is asking to Verify contact information for your developer account. If you are getting such message on the Google Play Developer Account admin Dashboard, click on Verify ID and upload valid document mentioned there ( any one ).

Edmingle Android Team will take 7-10 working days to upload the App on the Client Developer Account
once we received the invite
and after that live it will be on the Google to review and make the Application live on the Play Store. Any rejection in the review stage may lead to further delay in release.
Related Articles

IOS App Developer Program Enrollment

IOS Developer Program Enrolment Document for Enrollment to Apple Developer Program Register as an Individual Requirements Apple Id Contact number for verification An email address to use for the account registration Register as Organization ...

Website & App Setup

Before you go-live with your online academy, there are few settings you should enable/disable as per requirement. This article defines all such settings and will assist you in setting up the functionalities. Following are the sections which we will ...

Teacher Account Usage

Teacher Account Usage Options available in the teacher accounts are as follows: 1. Dashboard On the dashboard teachers would find the option to view the following: Sign In: to start the live class List of classes under Today's classes ( Online & ...

Email White Labelling | Mailgun Integration

Our LMS platform allows our clients to send email communications like SignUp Email, Course Welcome Email, Payment Reminder, etc. to students. By default, all the emails go from support@mail.edmingle.com. However, we provide email white-labelling ...

Batch Setup

Using this tab would help you in creation of new batches, manage existing batches & manage student progress of teaching material along with their online exercise status. Let us see the list of actions that can be performed. Institution Schedule will ...